Kubelík est un interprète peu connu de Schönberg, dont il donnera pourtant la création de l'Échelle de Jacob. Comme pour les Métamorphoses enregistrées lors des mêmes sessions, l'interprétation regorge de couleurs, de souplesse et de vigueur rythmique. Si Schönberg pouvait toujours être interprété avec cet engagement... Cet enregistrement reste la référence (le premier en studio, précédé simplement d'une captation live de Van Beinum en 1951 au Concertgebouw, alors que l'œuvre date de 1912, révisée en 1949).
Tout est absolument pénétrant, une mention spéciale pour le 3e mouvement "Couleurs ou Matin d'été sur un lac", mouvement sans thème avec un passage aux flûtes qui sera repris par Berg.
Ici, une très bonne analyse de l'œuvre par François-René Tranchefort extrait de "La musique symphonique" - Fayard - 1986.
cf.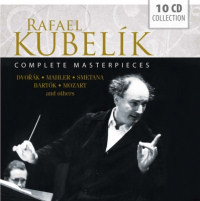 Kubelík is not a well known interpreter of Schönberg's music, and it is a pity since you do not have here the impression of "old sounding" and depressing music. His involvement pays here and the sound is just marvellous, even in mono. I have been waiting for this reissue for twenty years...
As quoted in Gramophon 'talks with Alan Blith', he declared :"There may be a culture of noise, and that's fine but don't let's confuse it with music. Don't mistake me. I'm not against change. Music has always developed by moving on to something new once one idiom has been exhausted. For instance, after polyphony had led to a dead-end, composers turned to monody. But it has always had a form. Like a tree, like a man, it must have a skeleton, flesh and veins— it must have its own logic" . Here, even in the 3rd movement 'without theme' you can sense the logic. He gave the Variations op. 31 in Munich in 1972.
cf.