Un concert qui nous était inconnu, donné aux Wiener Festwochen, certainement en hommage au compositeur disparu le 6/4/71 (Stravinsky avait été un des premiers à signer l'appel de Kubelík au boycott des pays envahis par les soviets en 1968). Kubelík a bien approfondi sa lecture par rapport au concert donné 12 jours avant et la captation est plus présente. On a connu de multiples interprétations de cette œuvre protéiforme : des exaltées (Mehta), des sauvages (Ancerl), des néo-romantiques (Karajan), des Rymskiennes etc. Ici c'est la version Kubelík ! Ce n'est pas la plus démonstrative, mais c'est passionnant de bout en bout ; on entend bien sûr des détails que l'on entend pas ailleurs, mais c'est vrai pour beaucoup de versions ; les qualités principales sont la stabilité rythmique, les cordes sidérantes, le soin du détail, le tout donnant une atmosphère très originale, onirique ; la fin est sidérante ; un immense artiste à la hauteur du sujet qui ne faisait pourtant pas partie du "cœur" de son répertoire (on pourrait dire la même chose pour des œuvres moins importantes, telles les Jardins de Falla ou Espana de Chabrier parmi de multiples exemples). Quasiment toutes les interventions solistes seraient à citer.
Discographie comparée de 100 versions du Sacre :
(23/11/08
-03/4/10

)

Much better than the broadcast given 12 days before... A very original lecture, splendid atmospheres, astonishing strings; the main merit stays in the fact you are as faced to an unknown world. Kubelík just a 'romantic conductor', rather rythmically unsteady? Certainly not! When you realize this is a live concert (Bernstein was sometimes sampling his recording for CBS measure by measure...),... of course some balance choices could have been corrected and a slight hesitation by the end makes you feel him conducting in front of you, but overall the control is just amazing.
Symphonie de psaumes
SOBR - 19-20/12/1968 - Broadcast - Remerciements à Jean-François Fauduet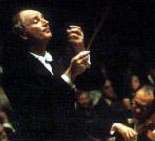 On a pas assez vanté les mérites du chœur de la Radio Bavaroise, toujours excellent, sans doute l'un des tous meilleurs du monde à l'époque avec le Philharmonia des années 60. On pourrait penser que le style volontiers romantique de Kubelík ne pourrait s'accorder à la musique de Stravinsky. Il n'en est rien : toutes les aspérités harmoniques et la scansion rythmique sont parfaitement rendues.
(25/06/05)
What a wonderful chorus : splendid voices, unisson, expressiveness... The orchestra which made impressive improvements since the beginning years with Jochum ,is these days probaly the best one in Europe, with the Concergebouw. As a composer, Kubelík was able to express Stravinsky music. Some passages sound maybe a little on the "Poulenc side", but the whole is impressive.
(06/25/05)
He gave at least three times "Les Noces". Jane Marsh has some recalls about it.
(29,30/04/82 - Munich - Herkulesaal - Bavarian RSO Jane Marsh, Marga Schiml, Horst Laubenthal, Andrew Foldi)
Symphonie en 3 mouvements




SOBR

-

16?

/

6

/19

7

1 - Broadcast -

Thanks to Simon Clark
Concerto pour violon


Kyung-Wha Chung - New York Philharmonic - 24/10/1981 - Broadcast - Remerciements à Jean-François Fauduet
C'est toujours une surprise d'entendre un très grand musicien réussir dans un répertoire pour lequel on le croit peu familier. Et bien çà marche parfaitement dans cette partition très "Stravinsky acide".
C

appricio




Nikita Magaloff

-

SOBR

-

16?

/

6

/19

7

1 - Broadcast -

Thanks to Simon Clark
Une œuvre "alimentaire", permettant à l'auteur de renouveler ses sources de revenus en tant que pianiste. C'est badin, bavard et un peu long, bref, le Stravinsky que l'on ne prise guère.
A neoclassical piece, rather long (17'20).
Scherzo à la russe - Circus Polka
Orchestre Philharmonique de Berlin - 25/3/1963 - DG
Un essai pour voir s'il pourrait diriger du Stravinsky pour DG ? En tout cas rien n'est indiqué à ce sujet dans la pochette de l'excellent Patrick Lambert. Et bien c'est tout simplement bluffant de maîtrise, de musicalité et de son ! Le sticker sur le coffret indique des âneries ("première en CD de 3 ouvertures de Weber", "first release of Kubelík rehearsing Mendelssohn's Midsummer Night's Dream"), mais pas un mot sur ceci ! En fait, ce programme était apparu dans un LP consacré à "l'humour en musique" (avec Till par Böhm...).
Finally, maybe Kubelík has been a major Stravinsky conductor! For what purpose did DG make these short studio recordings? For the album "Humor in music"?
Biographie de Rafael Kubelík - Discographie de Rafael Kubelík - Liste des concerts de Rafael Kubelík - Les meilleurs enregistrements de Rafael Kubelík
Biography of Rafael Kubelík - Discography of Rafael Kubelík - Concerts list by Rafael Kubelík - Best of Rafael Kubelík